Indoor Tennis at JTS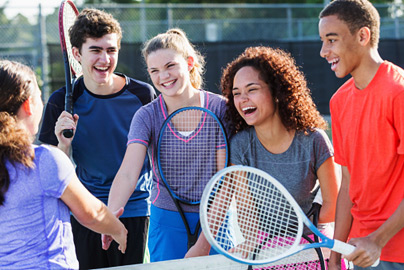 Indoor Lessons are offered September - December and January - April
RESERVED GROUP & INDIVIDUAL packages will be offered in 10 week sessions to be filled on a first come, first served basis. Participants will sign up for a selected day MONDAY-FRIDAY, and a selected time, 3pm - 7pm. Participants may form their own group or request to be placed in a group based on availability. Indoor lessons run for 10 consecutive sessions, Session 2 will start mid January. Lessons move outside in May.
ATTENTION: Lessons must be paid in full prior to commencing. A receipt reflecting your fully paid enrollment must be presented to your instructor upon check-in for your first lesson. NO EXCEPTIONS!
Reserved Group & Individual Lessons
5 Players: $170
4 Players: $200
3 Players: $260
2 Players: $380
1 Player: $745
**Registration is on-going: your session runs from the date you begin**
10 & Under Tennis Academy
Designed to get kids into the game immediately! This exciting play format utilizes special equipment and shorter courts for 5-10 year olds.
Wednesdays, January 10 - March 21, 2018
Red Ball: Beginner/Adv. Beginner; 5pm - 6pm
$200 for 10 week session (no class on Feb. 21)

Mon. & Wed, January 8 - March 21, 2018
Orange Ball: Advanced; 6pm - 7pm
$350 for 10 week session (no class Feb. 19 & 21)
Town Of Ramapo Tennis Pros
Johnny Benoit - Head Tennis Pro
Aida DeRogatis - PTR Pro
Bobbie Kim - PTR Pro
*private lessons available Monday-Friday; 7am-1pm, contact pro for pricing*
Weekday Adult Classes
Indoor classes November 6, 2017—May 5. 2018
Join and Save! Purchase the tennis package and come enjoy as many classes as you want each week PLUS weekday daytime tennis court reservations dependent on limited availability.
Adult Drill & Play: Mon. 9:30am-11:00am

Get Fit Tennis: Tues. 6:00pm-7:00pm

Stroke Of The Week: Wed. 9:30am - 11:00am

Cardio Tennis: Fri. 9:30am - 10:30am
Tennis Package: Includes unlimited weekday adult classes
Residents: $200
Non-Residents: $250
Daily Drop-In Rate: Residents: $15 / Non-Residents: $25
**pre registration required by calling (845) 753-2324; low enrollment will cause classes to be cancelled**