Palisades Credit Union Park
Ramapo Parks & Recreation Administrative Office
3 Palisades Credit Union Park Drive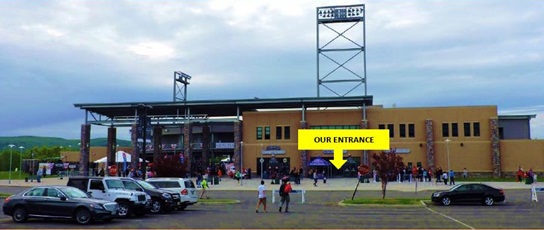 Pomona, NY 10970
(845) 357-6100
Map & Directions »
Conveniently located off Exit 12 of the Palisades Parkway
OUR BUILDING IS CLOSED TO THE PUBLIC
AT THIS TIME. CALL US DURING BUSINESS HOURS:
Monday - Friday 9:00am - 4:00pm
or EMAIL US >>
The Parks & Recreation Administrative Office is closed on National Holidays
REFUNDS & POLICIES FOR PROGRAMS/ACTIVITIES
· Full refunds/credits will be issued for classes cancelled by the Parks & Recreation Dept.
· All requests for refunds/credits must be submitted in writing to the Parks & Recreation Dept.
· Medical reasons require a letter with a doctor's note to verify
· No refunds will be issued once a program has begun
· The refund surcharge for camp cancellation is $50.00
· The refund surcharge for all non-camp program cancellations is $15.00
· Full Day camp fee increase after June 5, 2020; New enrollments $75.00, Incomplete Payment Plans $50 per camper
· Mini Camp fee increase after June 5, 2020 is $50.00
· Non-Resident upcharge of $25.00 for swimming lessons and programs
· Non-Resident charges apply for summer camps

REFUNDS & POLICIES FOR ID CARDS
· No refunds will be issued once a facility has opened for the season
· If you are eligible for a refund, your receipt and ID cards, if applicable, must accompany your refund request
· You must request a refund in writing directly to the Parks & Recreation Office
· All card refunds are subject to a $15.00 processing fee
· Lost ID cards will incur a $10.00 replacement fee

RETURNED CHECK FEE OF $20 imposed on all checks returned from a bank for any reason.
PALISADES CREDIT UNION PARK
is situated atop a ridge over-looking the majestic Ramapo Mountains. It is the home of the NY BOULDERS, but serves as a multi-purpose venue that hosts local college, high school and amateur baseball. Numerous community events and holiday celebrations will be offered. PALISADES CREDIT UNION PARK is a regional asset unlike any minor league ballpark in the country.The boom in minor league baseball stadium construction over the past twenty years has resulted in each new ballpark moving closer to perfection. The goal of capturing and integrating the latest enhancements and features into the Palisades Credit Union Park design has resulted in a magnificent facility that is sure to become known as 'America's Best New Ballpark'! Palisades Credit Union Park is a first class facility that acts as a
gathering place for the community and provides a memorable entertainment experience.
"Ninety Feet between home plate and first base may be the closest man has ever come to perfection.." — Red Smith